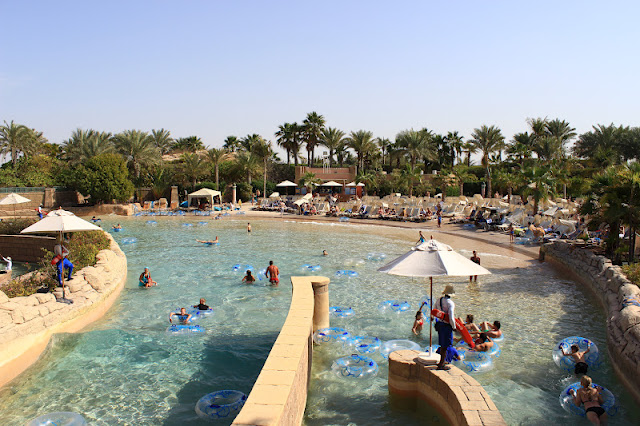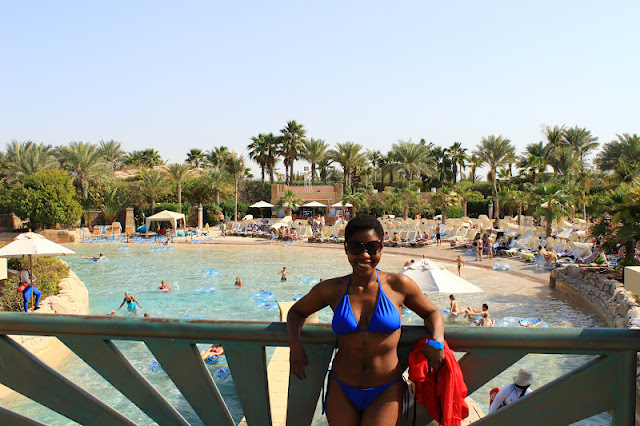 When the Atlantis Hotel extended me an invitation to review their Aquaventure water park, I said yes without hesitation. Then I remembered that I can't swim. Oops.

You see, the story goes something like this: nearly 20 years ago, I almost drowned (coincidentally at a water park in Canada). I detailed the story of how I nearly perished here. And so it follows that for many years thereafter, I stayed away from any body of water wider and deep than my bathtub.
It wasn't until I decided to accompany Liebling on a week-long sailing trip to Croatia that I realized that I needed to get over my fear of water. With Liebling's encouragement, I enrolled in swim lessons in Hong Kong, where I learned a passable breast stroke, and improved my ragged, uncoordinated breathing.
But here the thing: I still can't swim to save my life.
Which is why a visit to Atlantis' Aquaventure water park in Dubai filled me with trepidation.
As it turned out, I needn't have worried. The array of water slides are monitored by a gaggle of outgoing staff, the variety of pools are filled with water that only envelopped me up to the chest when standing.
The fact that I'm not a strong swimmer didn't mean I couldn't thoroughly enjoy myself. In fact, quite the contrary. I had a fabulous time.
Liebling and I floated lazily on the tubes on the river that surrounded the complex, and threw ourselves down slides that at once exhilarated and terrified me. I screamed as I hurtled down the tubes ( dubbed water coasters) with the reckless abandon of my 9-year old self, previous water park trauma completely forgotten and utterly vanquished. Yes!
After we had sufficiently exerted ourselves on the slides, it was time to hit the gorgeous man-made beach.
Was this really the desert? I felt like I was in the tropics. Love!
.
We ooh-ed and aah-ed at the marine life for a good hour and a half…
… and we even found Nemo!
You could even get inside the tanks and swim with the marine life- providing you were a certified diver and willing to pony up some extra cash for the experience. Très cool.
All in all, despite my initial reservations, this was a great way to spend an afternoon. My only complaint was the weather- don't let the pictures fool you, it was unseasonably cold for Dubai! The water in the pools at Aquaventure was unheated, which made for a bit of a shock upon first dip. That being said, I imagine that 350 days of the year, this is not an issue- this is the desert after all!




Have you ever been to a water park? Would you go?


Disclaimer: I visited Aquaventure and the Lost Chambers as a guest of Atlantis the Palm, but the opinions are my own!
Psst! Don't forget to "like" me on Facebook if you haven't already! Your support is much appreciated!