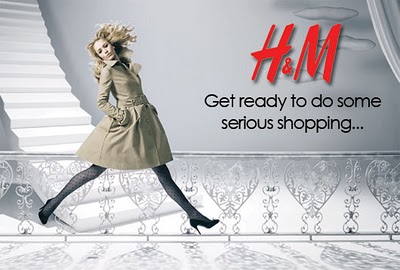 Serious shopping? Indeed.
A friend at work complimented me on my cardigan today and asked me where I got it from. "H&M," I replied, "where I get ALL of my clothes". I was half joking until I looked down at the rest of my outfit and it struck me that, in fact, my WHOLE outfit today (excluding the shoes, but including my grey pants, white t-shirt worn under the cardigan, my leopard print scarf) came from H&M. Upon further reflection I realized that even my HAIR ELASTIC was from there.
Talk about being a poster girl. I should buy shares in the company.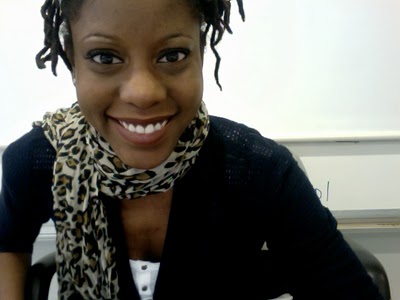 Today's outfit, brought to you courtesy of H&M
Oh, why do I adore Hennes and Mauritz so? Like a vacuum, it sucks up my monthly paycheck mercilessly. When I walk past its windows at its downtown Hong Kong location, the impeccably dressed mannequins use their powers of seduction on me, wielding their waxen, mannequin-y wiles to lure me in like a hooked worm does a fish. Never one to resist flirtation, I am drawn into the store's depths, vowing to "only" try on and never to buy, yet emerging from the store with a large plastic bag and a lighter wallet.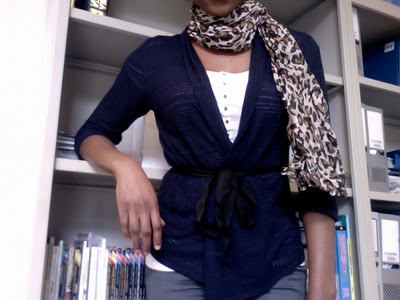 Full-frontal view of the 'fit
I like H&M for its combination of what I call "classic/trendy yet affordable" fashion. The pant-legs are always long enough for my seemingly interminable gams and the seat and rise of most of the pants manage to cover and give enough room for my somewhat ample caboose. I especially like their professional wear- the structured, non-fussy blazers and pants, appropriately-lengthed skirts, and crisp dress shirts can make one office-ready quickly, easily, and for relatively little coin. They have funkier stuff for going out/clubbing (some of which borders on dreckitude), but I don't mess around with any of that. My simple trendy separates suit me just fine.
The Queen's Road H&M in Hong Kong where I spend most of my free time
I just took out a pencil and a piece of scrap paper and did the calculation (yeah, we old school like that) of the grand total of my outfit. I realized that the whole kit and kaboodle only cost me about $60 USD, which ain't bad at all. That said, I think that I look like a million bucks *wink*. But really, now, who can argue with such a bon rapport qualité-prix? Not I.

So ladies, what are some of your favourite clothing stores? Which stores help you "suit up" your sexy?