Liebling and I had the pleasure of staying at the luxurious Pullman Mall of the Emirates hotel during our trip to Dubai.

The Pullman was a great place to rest our weary bodies after the long, hectic days of exploring busy Dubai. The large room was bright, tastefully decorated, and extremely well appointed, with a super-sized bed that made me sigh with joy every time I found myself in its embrace.


Liebling, always the tech fanatic, greatly appreciated the large, flat-screen television in our room, and noted that it was positioned in such a way that it could not only be watched from the bed, but also from the washroom. Fabulous! 😉


The washroom was ample and spotless, which was comforting for a extreme germaphobe like myself. I also appreciated the rain shower head and generous assortment of travel-sized toiletries on offer: there were toothbrushes and lotions, conditioners and little face towels. To my great delight, they were replenished on a daily basis. This pleased me immensely- one of my pet peeves is when hotels skimp (or do not provide, the horror!) these personal care items. Thankfully this was not the case at the Pullman! The attention to detail had me purring like a satisfied kitty.


The location and the facilities also made the Pullman a winner: 20 minutes drive from Dubai's airport, the hotel is well connected to the rest of the city, with the metro being only a short walk away.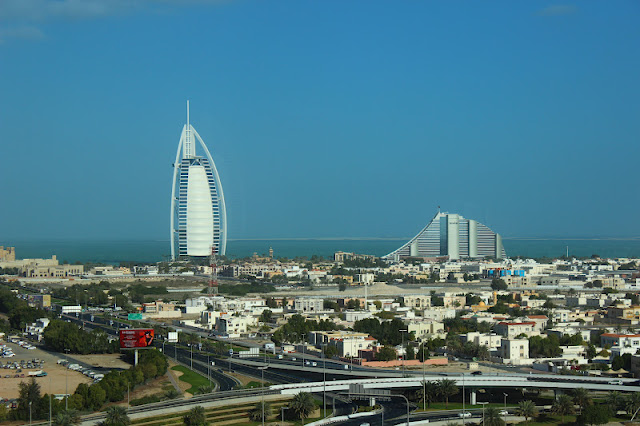 The view from the window in our room
I, however, was more interested in the shopping, for as the name indicates, the Pullman is directly connected to the Mall of the Emirates, the mega shopping complex that has the unique distinction of housing… a ski centre! Only in Dubai…
But since skiing is not really our thing, we opted to hang out at the hotel's rooftop pool.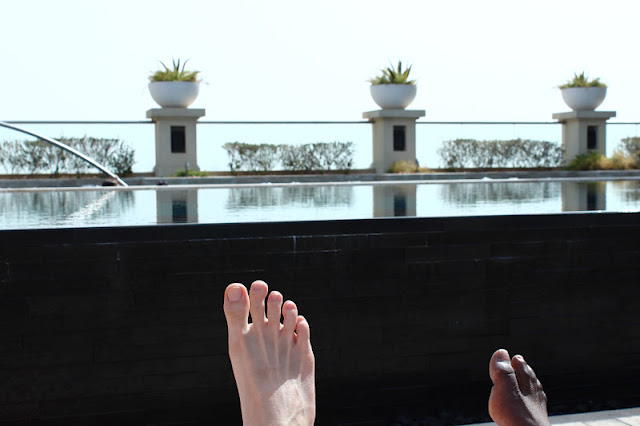 For us, one of the hotel's best features was the food. Quite simply, the hotel's restaurant had us geeked- the breakfast buffet had an extensive array of foods (ranging from Middle Eastern to Western fare) just ripe for the taking. Of particular interest were the pastries- I love carbs and the freshly baked croissants made my heart sing. We were also invited to have dinner, where Liebling indulged in a succulent steak.


It was our first stay in a Pullman hotel, and needless to say we were thoroughly impressed by the facilities and service. Our stay definitely enhanced our Dubai experience.
Have you ever stayed at a Pullman hotel?
This was a sponsored hotel stay, but all opinions are my own!


Psst! Don't forget to "like" me on Facebook if you haven't already! Your support is much appreciated!