Somehow, I had forgotten just how beautiful Madrid is. You see, I've been to Madrid twice before: once in 2003 and a second time in 2006.  I remember that I had liked Madrid's vibe and adored the language, but completely missed how gorgeous the city is.  Tree-lined boulevards, stately buildings, wide open plazas with heaps of flora and fountains- Madrid has got it going on. Keep reading for my snaps of the city and a few of my tips for traveling to Madrid, Spain:
Take the metro or the express bus to/from the airport
Don't take a taxi if you can help it. Save your money for tapas: Madrid's Barajas airport is only about a 30-minute bus drive from the centre in a moderate amount of traffic.  I took the express bus ($7 USD) from the airport and got dropped off at Atocha bus/train/metro station, but the bus also has stops along the Gran Via, one of Madrid's main throughfares.  From there it's a 10 minute walk from one of Madrid's most popular squares, the Puerta del Sol.
At approximately $7 USD, the metro is also a cheap and easy alternative to make your way to and from the airport, and can be quicker than the bus depending on traffic.
Find centrally located accommodation so you can explore by foot
I love walking and Madrid's wide boulevards are particularly enticing.  Benefit from the beauty of Madrid's centre by finding centrally located accommodation- it'll allow you to use your own two feet to get you where you need to go!  HostelBookers graciously provided me with a room at the Petit Palace Embassy Serrano, a lovely 4-star hotel in one of the nicest areas of Madrid.  I was able to window-shop at all the poshest stores as I made the 10-minute walk from the hotel to the Plaza de Alcala. Twenty-five minutes at a leisurely gait brought me from the hotel to the Puerta del Sol.
Expect to spend $25 USD and up for a hostel and $50 USD and up for a decent hotel room (single occupancy)
I was surprised to see that accommodation in Madrid is still pretty cheap by Western European standards.  When I found myself stranded in Madrid overnight because trains to Pamplona were booked solid, I paid $27  USD for a bed in an 8-person dorm at HostelOne.  Mid-range single-person accommodation in the centre will run you approximately $50 USD a night. The 4-star Petit Palace Embassy Serrano is only $89 USD for a single room. *Note: you can find hostels for $20 USD but they aren't very nice! It's worth it to pay just a little extra for better accommodation, in my opinion!
Pack a picnic lunch and eat in the park
Hanging out in Madrid's Parque del Retiro is a great way to spend an afternoon.  Plus, it's free! Grab a few provisions from the market and have sandwiches in any one of the plethora of grassy areas throughout this huge park. Fun, cheap, visually stimulating… I like!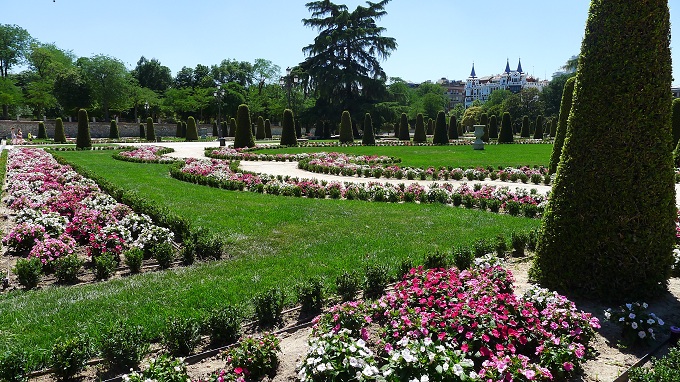 Do you have any tips for traveling to Madrid, Spain? Whether you have or haven't been, what do you think of the city?