A review of my experience with Corporate Stays apartments in Toronto.
So my new TV gig (I'm the new in-house travel expert on a Canadian television show! Here's the announcement if you missed it) requires me to be in my hometown of Toronto on a monthly basis. While I love getting to go back so often, there's one small issue: my mom's place, where I usually crash when I'm in town, is technically in the neighbouring city of Mississauga, not Toronto.
This typically wouldn't be a problem, since the M-dot is barely a 25-minute drive on the highway to the downtown core, where the studio is. But since I rely exclusively on public transportation when I go home (cough cough my driver's license is expired, cough cough), that easy 25-minute drive is actually a 90-minute hustle that involves at least two buses, a streetcar, and a whole lot of hassle. Blech.
So when Corporate Stays invited me to try out one of their accommodation options in downtown Toronto in exchange for a review, I was more than thrilled. This corporate housing provider offers specially handpicked properties across North America, Central America, and Europe; their Canadian portfolio spans major hubs such as Ottawa, Montreal, Vancouver, and of course Toronto.
And so it was that I spent three nights in a Corporate Stay property this past January. Here's what I thought.
The property and location
Corporate Stays set me up in a high-rise apartment building close to Front and Spadina Streets.  This location was great in that it was right in the thick of things: tourist attractions like the CN Tower,  Rogers Center (where many professional sports teams play) and the entertainment/clubbing district are just a stone's throw away.  Public transportation is within a five minute walk; when in Toronto I highly recommend you "ride the rocket"– the iconic red streetcar trams– at least once. A ten minute walk along Front St. will put you in the sightline of some pretty awesome restaurants so you can satiate your tastebuds.
The apartment itself was spacious, and clean, with a fully equipped kitchen, flat screen television, and leather couch (a bit hard and small, but very nice nonetheless).  The kitchen and dining areas were open-concept and the appliances were modern and appeared easy to use.  When I opened up the fridge I was surprised to see that it was stocked with water, which was a nice touch!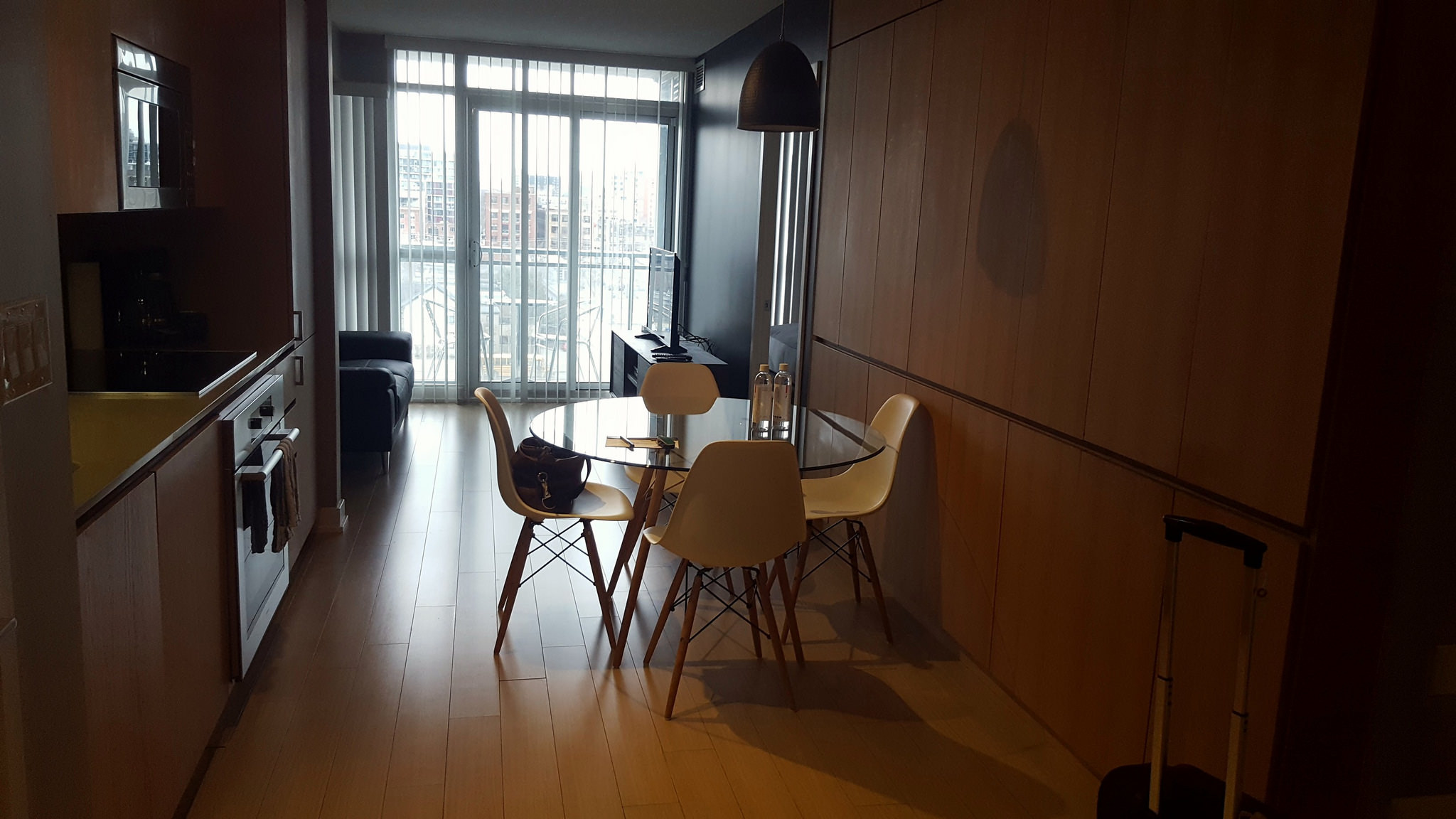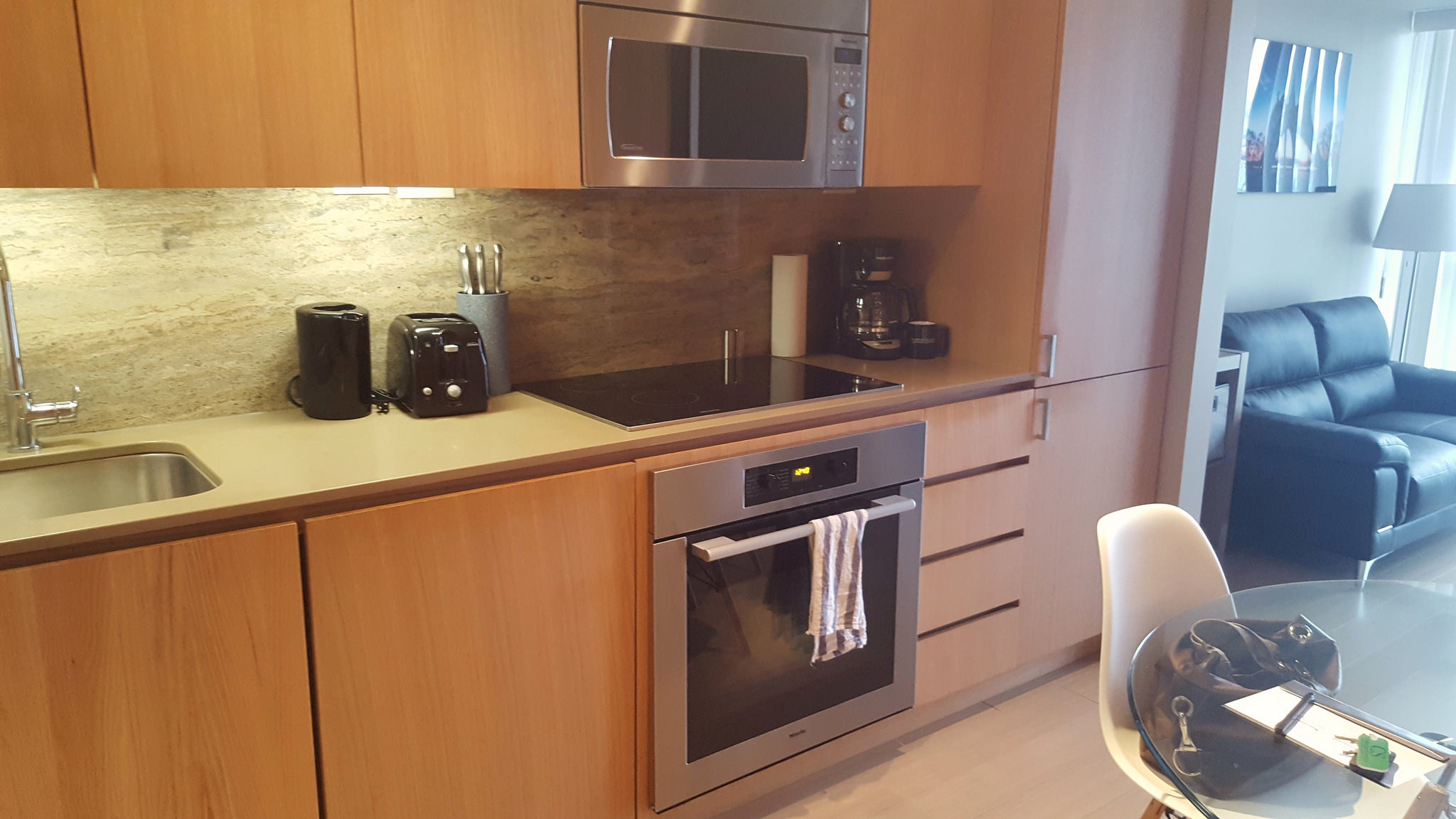 I was given a one-bedroom; the double bed in it was comfortable and stacked high with pillows. Furthermore, in the wardrobe there were two robes and a multitude of towels, which I greatly appreciated since I hate when hotels/rentals are stingy with the linens! Adjacent to the kitchen was small alcove that housed a desk and lamp, a cute little home office space.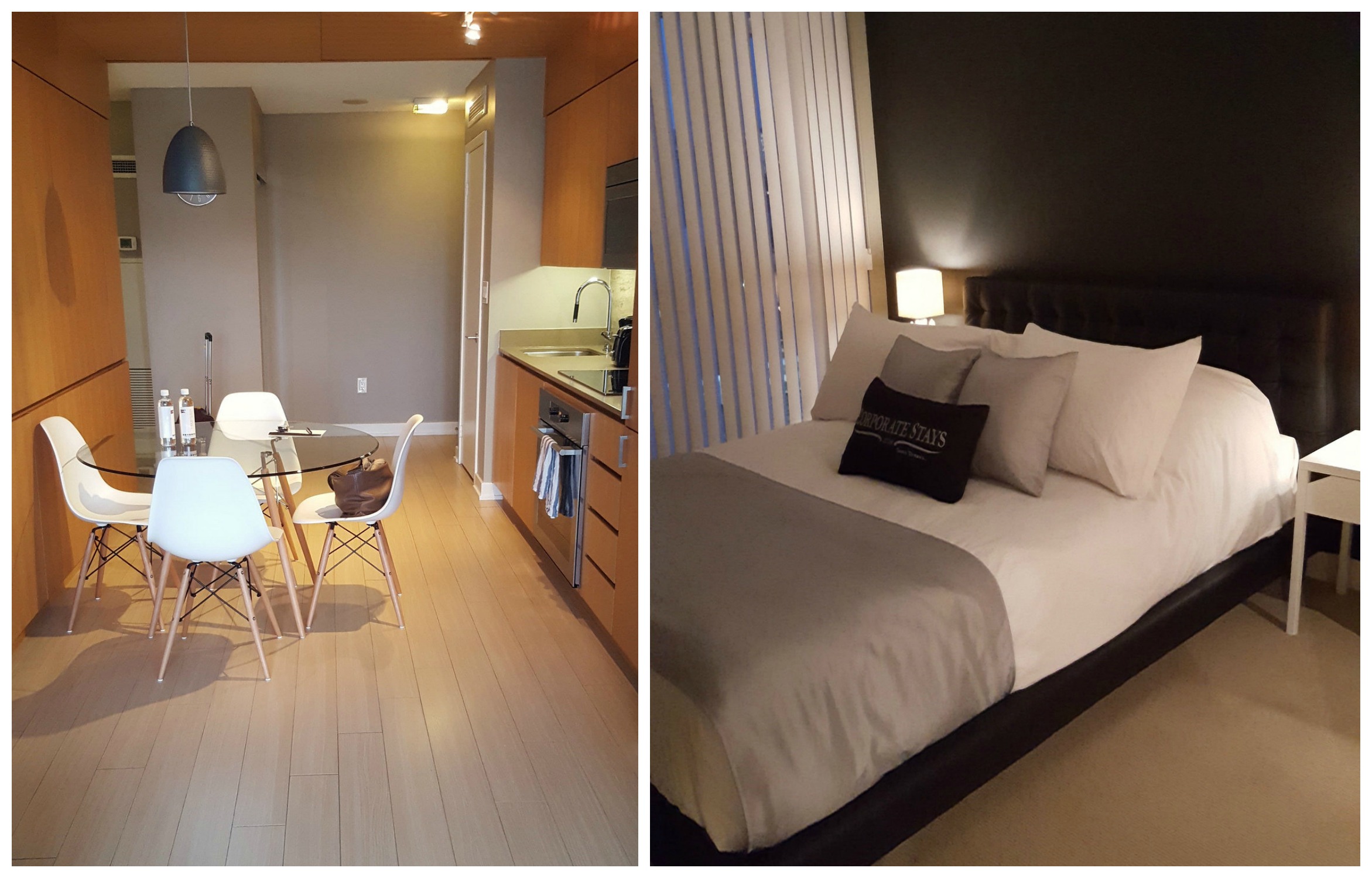 The bathroom was unremarkable– to be honest I found it a bit dark and small. Ever the stickler for detail, I also noticed that there was no place to hang hand nor body towels, which I found a bit unfortunate. Still, I liked that the bathroom had two entries; it could be accessed directly from the bedroom or from the living area.
The Corporate Stays experience
Corporate Stay differentiates itself from other short stay rental agencies with its concierge service, which is meant to provide a personalized experience.  From booking to check-out, the person assigned to you is supposed to ensure that you are well-cared for and happy with your stay.
My assigned person was indeed attentive, though I must admit that there were a few organizational hiccups when I arrived to check-in (namely, someone forgot to drop off the keys off at the front desk of the complex so I had to wait 45 minutes until I could get into the flat). However, from that point on my contact person gave me an exceptional standard of care, constantly checking in via email to see how I was settling in. When I discovered a stain on one of my pillows as I was retiring for the evening, she responded quickly, sending housekeeping bright and early the next morning to replace it.
The verdict
Booking a suite with Corporate Stays in Toronto is a suitable option if you're looking for a touch of home that staying in a hotel just can't provide. With loads of properties in a growing number of destinations, you can certainly find a home away from home when you travel!