Feeling lucky? If you're a traveller with an itch to live and work abroad in the UK, this competition is for you!
My most treasured experiences as a world traveller have been the stints that I've lived and worked abroad.
Because as much as I enjoy the thrill of border hopping, staying in a place longer term and having the opportunity to more deeply understand a country's people, customs, and culture is what really nourishes my soul.
The proof of this, as they say, is in the pudding: I've been an expat for nearly 12 years, holding down a job and paying rent in France, Mexico, England, Hong Kong, and the USA. (For more on my journey as an expat, read my bio here.) 
I'm thus a huge advocate of living and working in foreign countries; I've even written blog posts about how you can successfully do it, too.
For this reason, I'm more than happy to promote BUNAC's Learn, Intern, Explore competition, which will award one lucky winner with an internship in the UK! Read on to get the skinny on what it is and how you can apply!
The Contest
BUNAC, the organization that has been helping young people work and volunteer abroad since 1962, has a number of different programs geared towards wanderlusters hungry to hit the road.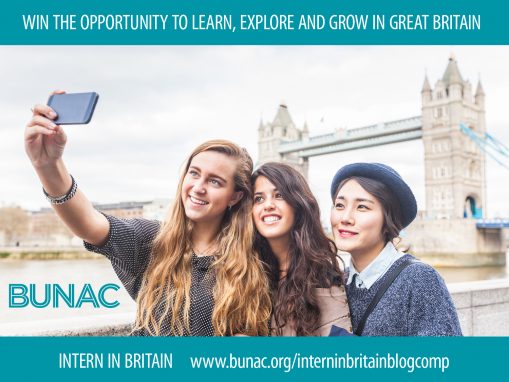 But the Learn, Intern, Explore competition specifically has an internship in the UK up for grabs (tea and crumpets anyone?!)

For this contest, one person will have the chance to not only score an amazing summer internship somewhere in Britain (previous BUNAC participants have interned at E! Entertainment and JP Morgan Chase!) but will also enjoy all the perks mentioned below: 
•       A tailored, 2 month summer internship in their dream industry
•       Return flight from the USA to the UK
•       A 3 day UK tour to take in all the sights
•       Accommodation for the duration of their trip
•       Tier 5 visa
•       Comprehensive medical insurance
As someone who lived and worked in London for two years, I can personally say that this is an awesome opportunity that is not to be missed. And all of the goodness listed above doesn't even take into account the location– having all of Europe practically at your doorstep (and in the summertime!) is simply fabulous.
How to Enter
Entering is easy as pie! All you have to do head to this link http://www.bunac.org/interninbritainblogcomp , answer three basic UK trivia questions, and explain in 100 words why you deserve to win!
The contest closes March 15th, 2017 and a winner will be selected in the coming weeks.
So what are you waiting for?  Get cracking and realize your dreams of living and working in a different country!  Good luck applying and make sure to let me know if you win!
Have you ever travelled to the UK?  Have you ever lived and worked abroad? Where?
This post was written in collaboration with BUNAC!