My tips for how to avoid weight gain and stay in shape while travelling.
If you follow me on Instagram or Facebook, you'll already know that my 2017 is already shaping up to be the year of the beach vacation.
February found me on sunny shores of Cabo San Lucas (see part 1 of my trip documented here!), and just last week I absconded to the Caribbean island of St. Lucia with my favourite girl gang (more on that trip later).
]
But while a number of people have been hitting me up for recommendations on what to do and see in these beautiful locales, I've also received a large number of public and private inquiries about how I maintain my weight, retain muscle tone, and generally stay fit while travelling.


While I'm seriously flattered by the positive attention, I'm far from an expert on fitness.  However, there are a few practices I employ to keep fit on the road that I'm going to share in this post.  So if you're curious about how I personally stay in shape, avoid weight gain, and keep fit while travelling, read on!
My tips for staying fit and avoiding weight gain on the road
#1. Bring fitness gear
95% of the time I travel I pack a pair of running shoes and at least one workout outfit.  Why? Because the last thing I want to do is use "But I didn't bring the proper attire!" to be an excuse for why I didn't get any exercise the whole trip!  Seriously, the mental aspect of exercise is half the battle, so being prepared is key.
#2. Walk everywhere and book accommodation within walking distance of sights
This is perhaps the simplest tip to employ. I use my own two feet to get around as much as possible, avoiding buses, taxis and other forms of vehicular transportation like the plague. I also tend to find accommodation that's within a half-hour's walk to my destination's major attractions so I can get in some physical activity that way.
#3. Skip the hotel breakfast
Speaking of accommodation… Hotel breakfast buffets are the devil!  While they may be awesome value (whaaaa?! You mean I get to eat AS MUCH AS I WANT AND CAN SMUGGLE LEFTOVERS IN MY PURSE?!) they are ultimately detrimental to the waistline. No matter how hard I try I overeat at hotel breakfasts so I have made it a point to book places where brekkie *isn't* included. Grabbing food outside the hotel usually means you'll eat far less and often at a place that's more local or authentic.
#4. Go for a run
Many of you know that I'm an avid runner– I've written before about how this is the best way for me to stay in shape while travelling (and at home!).  What I love about running is that it's a huge calorie burner and is a great way to get your bearings in a new city.  Just make sure that you're safe– always run in broad daylight and/or in populated areas you know are low-risk. (And if you can rustle up a run buddy, even better!)
#5. Do HIIT
A former co-worker put me on to HIIT (High Intensity Interval Training) workouts a couple years ago and I've been hooked ever since! The reason I like it is because sessions are short (usually under 30 mins), intense (duh!), and often require little to no space or equipment.  Kayla Itsines' Bikini Body Guide is my favourite HIIT program and I've been known to do it in my hotel room.
#6. Skip the bread at lunch and dinner and protein it up
While my carb addiction is difficult to break, I actively try to abstain from eating bread at lunch and dinner.  Instead, I fill myself up with soup, salad, or lean meats like chicken or turkey.
#7. And since we're on the topic of food– Skip the appetizers and desserts!
In Europe, where multi-course menus are popular, this is the death of me.  Still, I try to stick to just having an entrée.  If I'm really hungry I'll order an additional side salad.

#8. Schedule tourist activities that force you to get active
Scope out the walking tours in your city.  Feeling a bit more adventurous? Book a bike tour like I did in the Netherlands and Colombia and explore that way. Hikes are also healthy and fun– I've done them in a number of places like Brazil and Hong Kong.
#9. Pack healthy snacks so you don't starve between meals
We often make terrible food choices when we're extremely hungry, so nourish your body appropriately between meals so you never get to that point.  I personally like to hit up the grocery store and stock up on treats like apples, oranges, and bananas– not only are fruits healthy fixes, visiting a local market is an excellent cultural experience.
#10. Sign up for local fitness classes
This tip comes from my besties Joy and June from A Dash Of Two— huge health nuts and fitness heads, they always make it a point to incorporate fitness into their travel plans.  Since they are big fans of bikram yoga, they look up local yoga studios wherever they're travelling and take classes! Like shopping in a local grocery store, it's a great form of cultural immersion!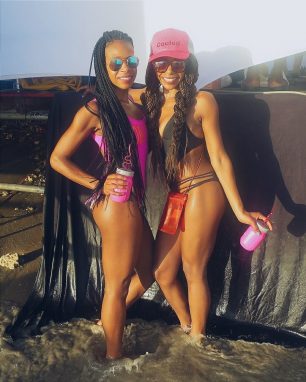 #11. Book accommodation with a gym
My girl TameikaG (fitness guru extraordinaire, you need to follow her immediately!) is super inspiring– not only did she curb her unhealthy habits and lose 90 pounds, she's managed to maintain that weight loss for nearly a decade!  One of the ways she stays fit when she travels is to seek out hotels that have a gym and begin her day with exercise.  That way there are absolutely no excuses!
…
In a nutshell, keeping fit or staying in shape while travelling doesn't have to be difficult, but it does require a little planning and a certain level of commitment.  One thing to remember, however, is that balance is absolutely necessary when integrating exercise and healthy eating into your travel plans– enjoying yourself and experiencing new things should be your focus on vacay, not spending three hours in the gym and subsisting on air sandwiches.  Remember that every body is a "bikini body", so don't let your desire to attain or maintain a physical ideal stop you from having the best time ever on your trip! 
How do you stay in shape or avoid weight gain when you travel?