We've got whale! I go whale watching in Los Cabos and encounter my very own Moby Dick.
When you visit Cabo, chilling at an amazing resort, sipping colourful drinks poolside, and working on your tan in the Mexican sun is pretty much a no-brainer. At least for me, anyway.
But what most people don't know is that you can go whale watching in Los Cabos– and that it's actually one of the best places for whale watching in North America! That's because every fall, thousands of whales make the long journey (some 20,000 km) from the frigid waters of the Arctic down to the waters surround the Baja Peninsula.
Turns out that the warm climate and calm waters make the bay and lagoons around Cabo a prime location for whales to congregate, hang out, and, well, make babies. This, in turn, makes it a great place for us humans to watch these gentle giants.
The whales typically hang around from December to March, so our February visit to Cabo and the Paradisus Los Cabos meant we had the good fortune to be in town smack dab during peak whale watching season! Score!
Luckily, the folks at the Paradisus organized a day out at sea so we could take full advantage of this serendipitous timing and go whale watching in Los Cabos. So, on the penultimate day of our Mexico jaunt, our crew squeezed into a van and made the 30-minute journey to Cabo San Lucas' colourful marina.
Whale Watching in Los Cabos: My Experience
After a bit of administration (namely filling out paperwork and taking a bathroom break– no toilets at sea!), we threw on jackets and life-vests and hopped into our chariot, a speedboat that could seat about 10 people.  Our two captains went through safety instructions and told us exactly what we could expect to see whale watching in Los Cabos.  Sadly, they informed us that the seas were exceptionally rough that day, which would make spotting a humpback on our tour a bit more difficult than usual.  At first I was a bit disappointed, but the bright sun, rocking waves, and gusty winds made it a great day to be out on the water regardless.
And then we were off! Our tour started with a stop in front of El Arco de Los Cabos, the majestic rock arch that has become the unofficial landmark of Cabo.  We snapped a few pictures then took off again, tearing through the Pacific on our speedboat.  In a word, it was invigorating.
I say invigorating because being on that boat was like being on a roller coaster! Even though we didn't see any whales for the first half hour or so I wasn't bored for even a minute: the combo of the wind beating me about the face, getting randomly sprayed by salt water when I least expected it, and getting jostled by the strong waves meant that every moment of the tour was an adventure. 
I was so caught up in the exhilaration of the speedboat ride that I honestly wouldn't have cared if I had seen zero whales during our tour.  But just when I thought we were getting ready to head back to the marina, we came across a massive humpback! He gifted us with a few jumps (show off!) before diving indefinitely back into the Pacific.  While his appearance was brief, it was not only an exciting conclusion to whale watching in Los Cabos, but also proved that good things come to those who wait!
Have you ever been whale watching in Los Cabos or in another city? What did you think?
PIN THIS POST!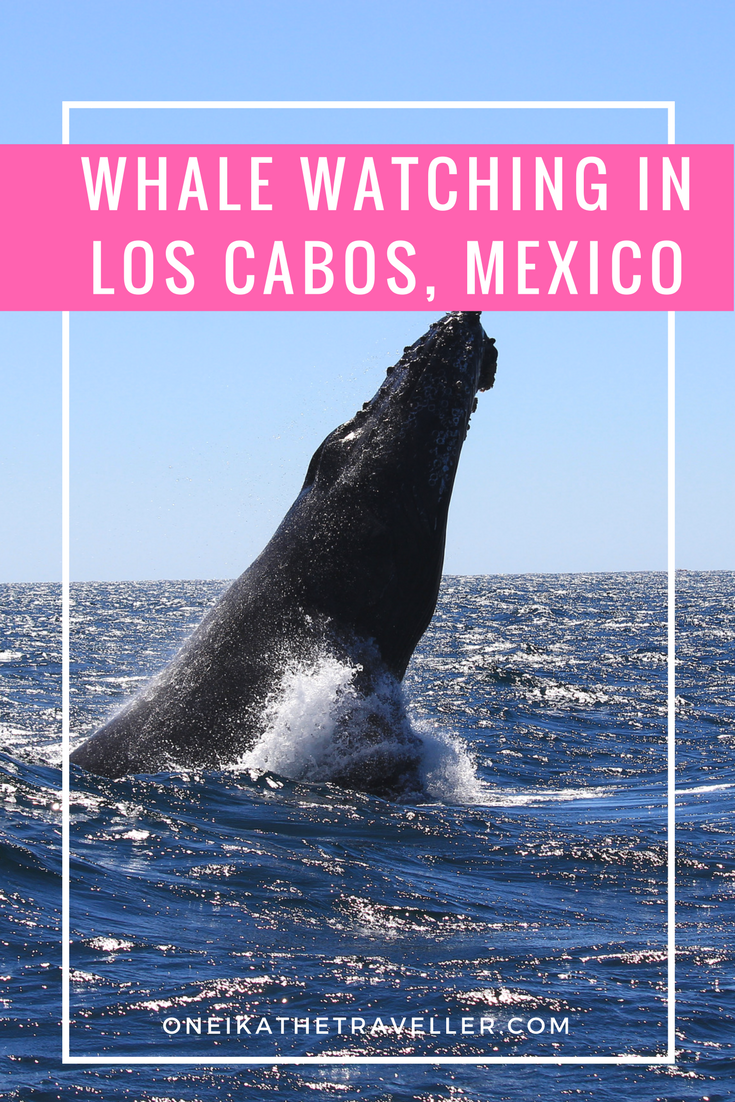 Catch up on the rest of my adventure in Mexico last month if you missed it!
Part 1: Our stay at the Paradisus Los Cabos
Part 2: Cocktails and cigars at the Paradisus Los Cabos
This post was produced in partnership with the Paradisus Los Cabos.